Granite Coast Entertainment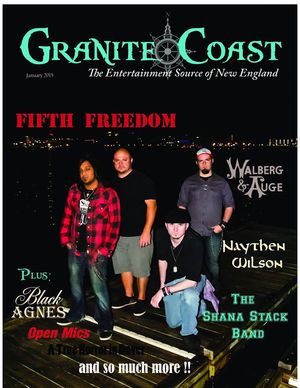 Article by:  Rick Stephens Murphy
Winter 2015 Issue
The Shana Stack Band:
What you see is what you get
High energy, high impact, engaging, talented, entertaining...Led by multi-national award winning vocalist Shana Stack and Nashville Songwriter association member, Ed Leavitt, The Shana Stack Band is all that and more.

I had the great privilege of talking with Shana and Ed and found them to be smart, witty, (Ed kept us laughing for an hour and a half) humble, and realistic about their accomplishments and goals. I found the blend and diversity of band background extremely interesting and a good example of how music truly is a universal language.

Please list the name and respective instrument of each band member
Shana Stack– Lead Vocals
Ed Leavitt– Lead Vocals, Backing Vocals, Acoustic Rhythm Guitar and Songwriter
John Sanchez– Lead Guitar
Kurt Ekstrom– Drums
Alec Derian– Bass guitar

Tell us the brief history of your band.
The Shana Stack Band was formed in 2010. Both Shana and Ed had fronted country bands for a number of years, but had enjoyed and admired each other for a long time. Being musicians, they often crossed paths on the road, and decided to join forces and form a new band. John Sanchez was brought in as an original member of the band, and Kurt Ekstrom joined two years later. Alec is the latest edition. The band has consistently been a part of the New England music scene; traveling all over the region to perform about 80 shows a year. The Shana Stack Band focuses on top 40 Country and original music. The band recently released their fourth album of all original music and are still, after nearly five years together, enjoying what they do.

What inspired you to make music together?
Shana and Ed have known each other for many years, and have similar tastes in musical interests. They discovered through a series of opportunities to sing together, they had a nice vocal blend. From there, the seed was planted to get together to form something. The rest of the musicians in the band have interesting backgrounds and different genre experiences, and that's what makes the band so unique. The perspective they each bring to the group is what makes the overall sound and feel of the music unique in its own way.

Who are your musical and non-musical influences?
Shana loves country music, but is also influenced by the great 1980-90 bands. Ed's influences were the classic country singers like Haggard, Jones and Alan Jackson. He also loves the newer artists who meld the classic sound with the modern sound like Dierks Bentley and Justin Moore. John is a dead head, Kurt is into Van Halen and the classic rock bands, and Alec is the resident Jazz expert and fan.
What are your dreams and goals?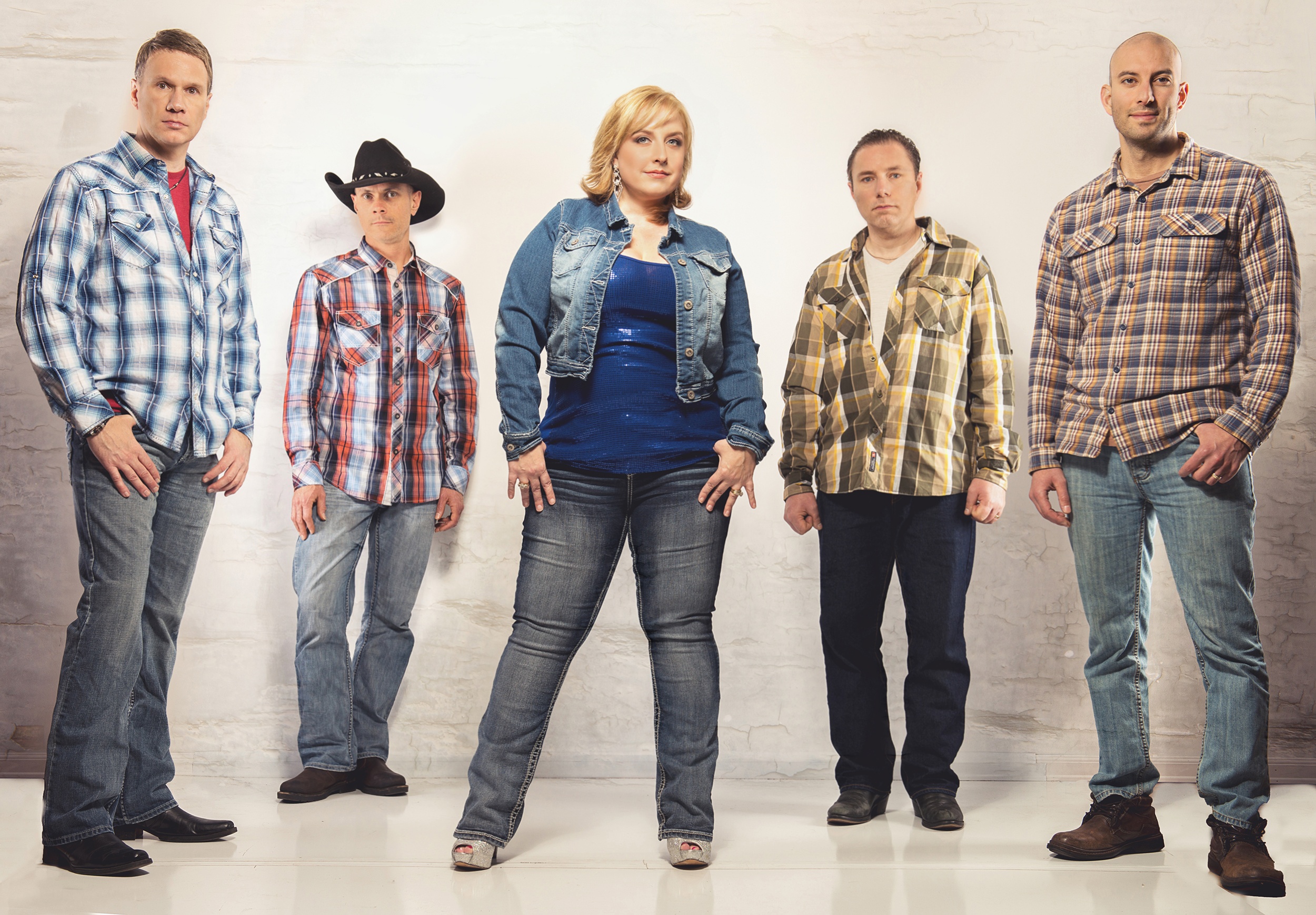 The Shana Stack Band is pretty realistic with their dreams. They know that Nashville is not exactly rolling out the red carpet for more Indie country acts, but they are very happy and content to be a part of the New England music scene. They love interacting and meeting new fans, and sharing their original music with them. "It's always a big thrill to receive an opportunity like this, to be interviewed and thereby, allowing our group to be introduced to a new audience. We've won a number of awards, like the Independent Country Music Association award for Country Band of the Year and the New England Music Award for Country Act of the Year, and we are grateful. But, the awards are just icing on the cake for us. We get our biggest reward in growing our fan base and entertaining people. We'd love to continue to build that following all throughout New England."
Who is the main songwriter?
Ed is a songwriter, and has a membership with NSAI (Nashville Songwriter's Association International) and is a member of ASCAP (American Society of Composers, Authors and Publishers). Ed enjoys storytelling, and likes to present ideas that the band can build upon. Everyone in the band infuses their talent and expertise into building an original song. It is always amazing how a melody and lyrics from Ed turns into a production when the band is finished infusing their own take on the song.

What has been your biggest challenge as a band? Have you been able to overcome that challenge? If so, how?
The biggest challenge continues to be balancing the band with other work, families and the time on the road. The Shana Stack Band members traveled nearly 13,000 miles each last year, and somehow still managed a house and family obligations. It can be very challenging at times. Not only does the travel and overall obligation involve the five band members, but it also affects their sound tech, Wayne Braley and their Manager, Conrad Farnham. As the band likes to describe it, "Lots of balls always in the air."

What advice do you have for people who want to form their own bands?
Be ready to work extremely hard. The music business is difficult and finicky. One day you are opening for a headlining act, and the next you can be playing a small club where no one knows who you are. You have to be ready to sacrifice time away from your family and other work, which is always a gentle balancing act. You have to rehearse constantly to get tight and stay tight, and you have to be willing to change up things at a moment's notice. Always be humble and never take anything for granted. It can all be gone tomorrow in the music business.
 
How do you promote your band and shows?
If the band is lucky enough, they get radio and newspaper advertising help. And interviews like this are invaluable to get word out about the band. As well, they continue to build their Facebook following of nearly 3,500 fans, 1,600 twitter followers and over 1,500 Reverbnation fans. They pay special attention to keeping their website current, and are always trying to engage their audience to keep them informed about where the band will be performing next and to be sure the fans know where to find their latest music. The Shana Stack Band has released 4 albums of all original music and they are available to purchase from the band's website:
ShanaStack.com
as well as CDBaby, Amazon, iTunes, Spotify and many other outlets.

What's your outlook on the record industry today?
The record industry is a very up and down industry. CDs don't sell like they used to, so you have to supplement sales with shows on the road and the dotcom outlets that
will allow Indie bands to work with them. The major record labels sign less and less acts each year, and the demographic is very young. Add to that the complication of people that are now finicky about who they follow. It's a volatile, ever changing market, and you have to be able to change with it, or get left behind.
Tell us about your next shows and why we should be there.
Along with being lucky enough to perform at Bank of NH Pavilion at Meadowbrook this past summer, to open for The Band Perry, The Shana Stack Band has been fortunate to play some cool local venues that keep them moving through the winter months and already have approx. 35 bookings going into 2015. They are most thankful to the fans and venues for allowing them to do what they love, which is making music.
Is there anyone you'd like to acknowledge for offering support?
"Oh gosh, so many people. We would like to thank our Manager, Conrad Farnham, who works around the clock on our behalf to find us some amazing opportunities to show off our music. We also would like to thank our Sound Tech, Wayne Braley, who travels with us to be sure that we sound our musical best during our live performances. Thank you to the club owners who have consistently believed in us and kept us booked and to the folks at Meadowbrook who allow us to come back each year and be a part of their wonderful family. We must undoubtedly say a sincere and heartfelt thank you and we love you, to our own families, who support what we love doing and keep the home fires burning while we are away on the road. Of course a special thank you to our fans who buy our music, come to our shows, and encourage us to keep moving forward. We always know that none of what we do could happen without all these people behind us. That old saying, "it takes a village" is so true in this case." The Shana Stack Band hits the stage with one goal in mind... "To engage the audience and leave them wanting more."

Any final thoughts?
Thank you for the opportunity to be interviewed. We are always so grateful for these opportunities, and the chance to continue building our fan base. We are very humbled to be able to share our music with anyone who will listen. We would love for folks to check us out at: ShanaStack.com and to "Like" us on Facebook.

The Shana Stack Band is the perfect example of how talent, hard work, and a great sense of humor lead to success. So slip on your boots, grab your hat, and boot two-step your way to The Shana Stack Band show near you.
Here is a glance at just a few of their accomplishments over their four-years together
Winner of the Independent Country Music Association's Country Band of the Year and Fans Choice Award
2014 Winner of the New England Music Award for Country Act of the Year
2013 - Band of the Year Winner for the Independent Country Music Association, Nashville, TN
2013 - Fans Choice Award Winner for the Independent Country Music Association, Nashville, TN
2013 - Album of the Year nominee for the Independent Country Music Association, Nashville, TN
One of Ed's songs, "Let it Go", has been featured in the movie Compliance which was released nationwide in the summer of 2012 by Magnolia pictures.
The Shana Stack Band has opened for such mega stars as Reba McEntire, Sugarland, Rascal Flatts, Chuck Wicks, as well as performing before Travis Tritt on the Main Stage at the New Hampshire Motor Speedway before the Nascar Sprint Cup Race.
In August 2014 the band opened for Vocal Group of the Year by the Academy of Country Music Awards, The Band Perry