Discovering a New Sound: The Shana Stack Band
Wednesday, August 6, 2014
Fancy Pants & Sugar Shacks Blog
Meghan Liegel
Many moons ago (okay, it was only a few months ago), my friend and colleague Ed invited me to listen to his band, The Shana Stack Band, play at a local venue.  As I was already familiar with a few of their tunes, and was also aware of their recent win at the New England Music Awards, AND the fact that they have opened for the likes of Reba McEntire and Sugarland, I knew it was going to be a great show and said yes immediately!  I put in a call to my friend, Ms. K., as I knew she would be up for an evening of good music, food, and fun. 

After a great dinner, we headed to the Tupulo Music Hall to see Ed and the band play. So, a foreword. Well, I guess it's a mid-word as we are already well-into this post. Until about a decade ago, I was never a huge fan of country music aside from my love of Kenny Rogers and Dolly Parton...I mean, how can you not love them???   Anyway, country music always seemed so sad and mournful and I just couldn't get into it.  However, thanks to the many great cross-over artists that have created some amazing music over past ten+ years, the genre has grown on me tremendously.  For one, I really appreciate the simple, honest story-telling aspect of country music; also, its melodies can be really comforting and familiar... they sort of make you feel like you are home getting a big hug from mom.  And after this concert, I like it even more!   In fact, Shana mentioned that one of her favorite things about performing is turning people on to country music.   She says: "I love 'converting' people to country music.  We hear frequently 'I don't like country but I LOVE you guys.'  Such a great compliment when people have a preconceived notion of what a genre of music is and you can turn it around for them."  Shana: you may have another convert on your hands!!!

Anyway, let's get to the good stuff!  They started out with some covers which got the crowd up and moving and clapping their hands, and then moved into their own songs which were thoughtfully written and artfully sung. Shana and Ed also took the time to introduce numbers, and chit chat about the stories behind several of the songs, and engage those of us in the audience to make sure we were enjoying ourselves.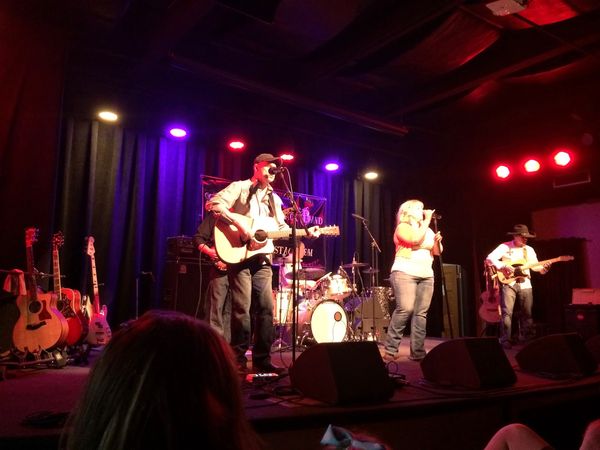 One thing I noticed right off the bat is the rocker edge their music has.   It is definitely country but lined with a great, edgy rocker beat.  After having asked the band members about this, it turns out that this is no accident.  Shana Stack, the awesomely fierce front-woman of the band, cites Martina McBride, Trisha Yearwood and Carrie Underwood but also Pat Benetar and Heart as her influences.  A quote from Shana on the latter: "Man that woman could sing!"  I would have to say the same of Shana - she has some seriously mad vocal skills!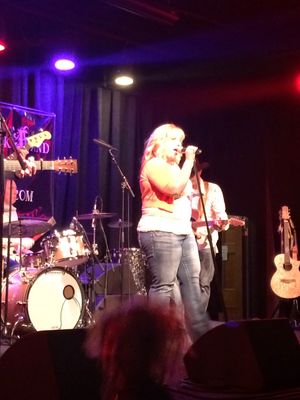 John Sanchez said his influences include Brad Paisley, Albert Lee, Brent Mason and Doug Seven, but hopes his own sound shines through.  It does and in spades!  AND....wait for it...he plays the mandolin!  And ROCKS it!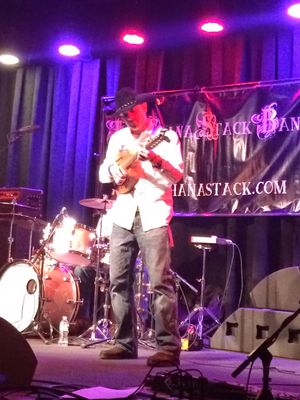 Other influences run the gamut from Haggard, Wynette, and Cash to the Beatles, Neil Diamond, Michael Jackson, Led Zeppelin and funk disco.  And this diversity really shines through in not only their music but also their performance.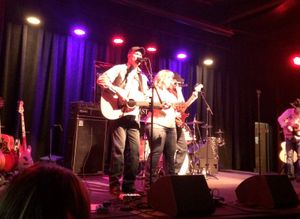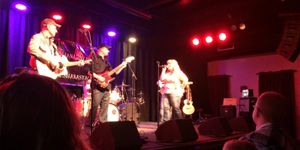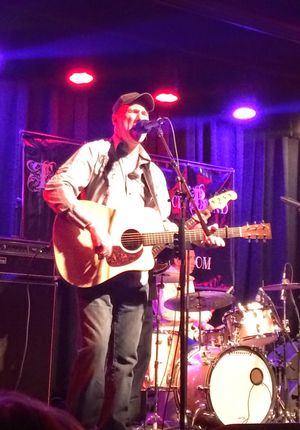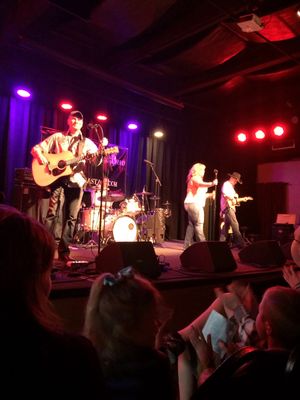 Ed provides lead vocals and rhythm guitar and writes most of their music - and I am trying to not be biased as he is a friend -  but his lyrics are fantastic - truly thoughtful, moving, relevant, and reflective. In fact, I recently found out that one of his songs was in the movie 'Compliance', which premiered at Sundance a few years back. Who knew I was working with someone so talented???!!!

At the concert, the one song I found especially moving was the song he wrote called 'Give Back' which is about just that - paying forward the good things in life to those who might need some help.  They performed this number (and a few others) acoustically and it was such a quietly moving way to take in their music.  Acoustic sets are not a usual part of their performances so if you happen to catch one you are in for a treat.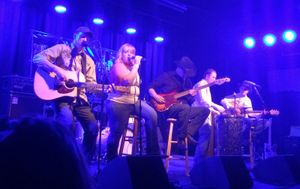 And towards the end of the more laid-back, non-electronic set they transitioned right back into their high-energy show, making sure that the audience was up and out of their seats, dancing away!  Also, did I mention that their band manager Conrad was in the back of the room teaching people how to line dance?  It is really a show that absolutely everyone can enjoy.  You can hang out up front and listen to the story-telling and do a bit of dancing with others in the crowd, or you can head to the back and do some good old-fashioned country line
dancing.  It's a win-win in my book!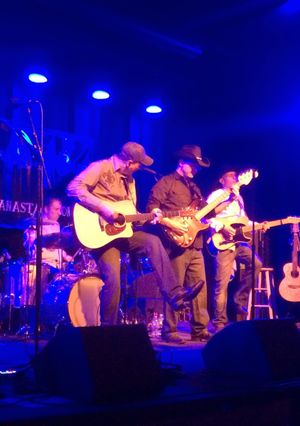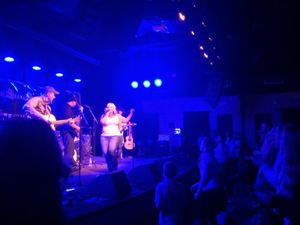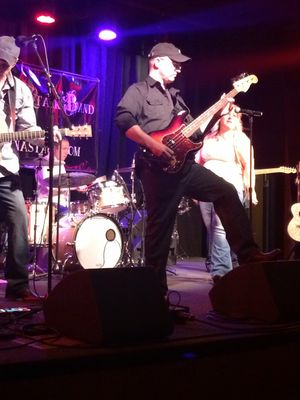 I was so happy Ed invited me out to see their show as it was just awesomely good fun.  I danced, I sang along, and left feeling a little hoarse - just the way one should leave a concert!

If you get the chance, you should definitely try and catch one of their shows.  They are smack-dab in the middle of a heavy touring schedule all around the Northeast (in fact, this past weekend they opened for The Band Perry at Meadowbrook in NH!!), and you can find their schedule here. www.ShanaStack.com

And, should you feel be feeling impulsive and want to listen to some of their tunes straightaway, check them out on iTunes!

Meghan xoxo