Shana Stack Band are a New England success story in the making
By Bill Copeland on January 21, 2014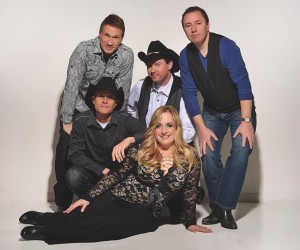 Shana Stack Band is on a roll. The three year old country music band from Keene, New Hampshire has already released three albums of original music and they've received awards from Granite State and Nashville organizations.
Stack formed this band with the goal of becoming one of the top acts in New England while releasing current original music. The secret to their success isn't hard to understand. "We've worked very hard," she said. "We always try to stay up to date with cover tunes as well. We want to have the latest stuff in our repertoire of what's currently hitting the charts."
Stacks credits her band's booker-promoter Conrad Farnham for constantly working behind the scenes to find them opportunities. The band decided early on to concentrate on their music without getting tied up with booking work. Stack, prior to her current band, had been a member of the New Hampshire Country Music Association and won many awards through them which resulted in her competing in awards shows for all of New England and down in Nashville. For a three year period prior to her current band, Stack fronted Shana Stack And Fast Lane. Her current band mates, too, had lots of previous experience and years worth of contacts.
"I wanted to go into a different direction doing more originals and playing in larger venues, and I got together with other musicians who had the same goals," she said. "We formed the Shana Stack Band."
Stack and her band mates play out all over New England and New York state. Though they've won awards through a Nashville organization, they've passed on the usual route of recording down there. "We decided it was more important to us to support our local studios or regional in New England," she said. "We feel our studios and studio professionals are just as good as those down in Nashville. We wanted to keep our money local and support the New England economy." So, they recorded their three albums in New Hampshire.
Stack markets her band around New England and New York through social network media and through line dancing fans who come out to their shows. "You really have to make a connection with the music lovers. They help to spread the word to get you into different places."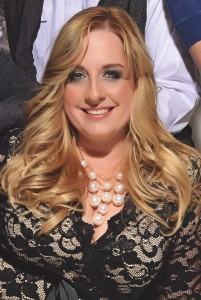 Stack has won so many awards now that it's hard to keep count. Just last spring, the band won two awards from the Independent Country Music Association, Band Of The Year and The Fans Choice Award. It's fantastic and we really appreciate any award we win, whether it be a local one or something more national. I don't want to say one award means more than another, but I'm super proud of the ones we've done as a group. The ones we've won in the last year, the one out of Nashville for the Independent Country Music Association, that was super huge to us. There were other acts that were from down south that we competed against and that was an industry nominated award. It wasn't just us going to Facebook saying 'Hey Friends, vote for us..' The Country Band Of The Year Award from the Independent Country Music Association, that was super awesome. We also won the fan voted award. It was like 30,00 votes or something. That was a big surprise. A lot of the people that were nominated were big heavy hitters in that association so we feel we're the little engine that could."
Stack has another job in the music industry that puts her before a large local fan base. She's the midday DJ at 98.7 FM WINK Country radio station in Keene, New Hampshire. Her 9:00 a.m. to 2:00 p.m. on air hosting runs Monday through Saturday.
Stack got her start in music as an actress in musical theater in grade school, high school, college, and community theater. She spent two years at Keene State College majoring in musical theater. Her community theater work found her landing the leads in Theater In The Mount productions in Gardner, Massachusetts and in some Lion Clubs shows in Keene. "That's what I wanted to be and what I wanted to do. Then, I discovered my love for country music in college and shifted gears," she said.
Her earliest musical influences, when she jumped into country, were the country female vocalists at the time, Martina McBride, Trisha Yearwood.
"They had these big full voices and my musical theater style connected with that kind of music," she said. "I started singing some of that because it really touched me. Then, it just went from there. Then, I found the New Hampshire Country Music Association and I started competing with them, and that was before I had a band. I just kept pursing it. It's hard for people up north sometimes to pursue things. People think you have to move down to Tennessee. I didn't want to do that. I didn't want to go that route. There's millions of people down there, all struggling. I just wanted to do my own thing and do it up here and be happy and content and proud of what we do up here. Ever since then, the country world up north has grown. It's taken off in the last couple years, especially this year there's a lot of country venues. Country has crossed over, so a lot more people that did not like country before like it now. So, there's a lot more fans out there and there's a lot more opportunities for country acts than ever before."
Stack connects on the real life emotions and events that inform the lyrics in country music. "It's based in real life," she said. "If you look at some of the newer songs on, the guys are talking about hanging out in their trucks. They're going out with their women on Friday night after working hard all week. It's really like real people, real songs."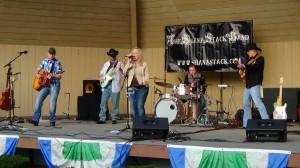 Stack favors performing Top 40 country music because she knows from being a DJ that people want to hear music they know, especially songs that are new hits. She also keeps them dancing to their original songs written by her rhythm guitarist Ed Leavitt. "It's great to have the audience still up dancing and singing along to the songs that Ed wrote that we arranged just as much as they were the famous hits. They blend in. They fit in well with what's going on."
Shana Stack Band has opened for Rebe McIntyre, Rascal Flatts, Sugarland, and many others, allowing the local group to expose their music to more country fans. They got to open for Travis Tritt at the New Hampshire Motor Speedway on a pre-race stage right on the track. "I have a love of NASCAR. To mix that with the whole 'Oh my goodness, there's Travis Tritt right over there.' We're performing right before a show on a NASCAR track. It just blew my mind. That was one of my favorite days."
Stack once got to hang up with Billy Yates who wrote "Choices" for George Jones as well as many hits for many country artists. Stacks opened for him some years ago. Yates and his entourage had to stay up late because they had to leave at two in the morning for an early flight. "They came and raided our cottage and they wanted whatever food we had because they were starving. All I had was some Oreos. It was hilarious."
Stack most enjoys detailing the talents of her own band mates and all that they bring to the band. First up, lead guitar player John Sanchez has a degree from the University of Michigan in music. "He moved his family out to New Hampshire several years back. He's been with us, and he's fantastic."
Drummer Kurt Ekstrom joined the band two years ago. Out of the Concord area, Stack said he's a top notch drummer. "He had come from a rock band, and he's just been the driving backbeat of the group."
Bass player Billy Moedebeck just joined the band last fall. Previous bass player Kevin Miller retired. "He had been with me since the beginning with all my different groups and everything. Then, Billy joined the group. He comes to us from a rock and R&B background. It's really cool to have this conglomeration because that's what country music is now."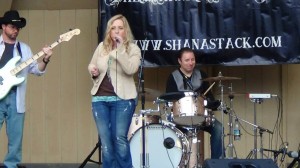 Rhythm guitarist Ed Leavitt is also the band's songwriter. "Ed is fantastic," she said. "He's a songwriter. When he creates the songs, it's basically just him and his acoustic guitar. He records a song and burns it on CD. We each listen to it and create our own parts. The lead guitar player is creating his from scratch. The bass player's creating his from scratch. The same with the drummer. We get together. That's how we built these songs and built the albums. It's a group effort, after Ed writes the lyrics and melody lines.
Aside from being the band's rhythm guitarist, co-lead vocalist, and songwriter, Ed Leavitt is also the band's best spokesperson. He had plenty to say about his songwriting process and the five new songs on the latest release Every Now And Then.
Lately, Leavitt has been getting some songwriting ideas by following peoples' lives by what they post on Facebook. One night, he noticed a friend's post about being in a new relationship but still occasionally thinking about her former boyfriend and her old life. After thinking how odd it was to post that on Facebook, it gave him the idea to write a song called "Every Now And Then" which became their latest title track."
"I kept thinking about it from a woman's perspective, what it would be like to get involved with a relationship but every now and then you sneak a look back into your previous life and what that was like," Leavitt said. "It's really funny how just perusing Facebook and nosing around you see the craziest things that people post and it gives you really great ideas."
"High Ground," also on the new album, was inspired by a friend of Leavitt's who went through a break up a number of years ago. "I remember her saying she just needed to move on and get to a higher plain in her life and forget about what happened with this person and just move on to a higher ground. "I basically stole her thoughts and just went with it and wrote it from there," he said.
"It worked out great. Shana, being the female vocalist, I just feed her all these songs. Of course, people think they're about her life. Wherever we play, they come up to her all the time, 'Gee, Shana, where did you get the idea for that song?' She'll say she didn't write the song. " Some audience members also show sympathy that she's gone through so many problems. "She says, 'On no, my life is just fine. These are just songs,'" he recounted.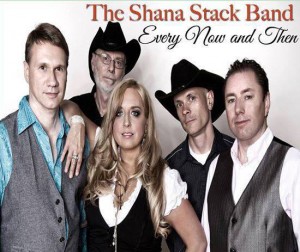 Leavitt sings lead vocals on another of the new songs, "Windsor County Line," a country rocker with an edge. The traditional melodic feel gets a boost from the drums and the lead guitar parts rock it up. Leavitt wrote the song about an exit off of Vermont Interstate 91, the Windsor Vermont exit. During a gorgeous summer day, he was heading down the highway when the song came to his mind. "The rest of it is all basically fictitious about meeting a girl down by the creek," he said. "I just added that for fun. But it was really inspired by that day. You could not have asked for a more beautiful day in the world." The band always dedicate the songs to folks in Vermont. "That's gotten a really great reception from Vermont fans. They've made it their little song."
A new song called "Just Kiss Me" was inspired by Leavitt's daughter who once tried to gain the affections of a shy boy at high school. She asked her father, "Should I tell him to just kiss me?" Leavitt had a father's response: "Absolutely not," he exclaimed. "You don't tell him anything like that. You stay away from boys. They're bad. Don't ever go near them." Now that his kids have grown, he still has memories of those times with his kids. He recalled his daughter's suggestion that she tell the boys to "just kiss me." It became the song.
"This Love," also off the new record, was inspired by Taylor Swift, whom Leavitt credits for bringing more young people into the country music fold and making the genre more popular than ever. "I was inspired by a couple of her songs that she'd written," he said. "I don't want to say I stole her melody, but I borrowed pieces from her songs. That song has been the most popular one off the entire CD. It's not uncommon for people to ask us to play it again during the night. It's just got that feel good pop melody to it and the drumbeat is really catchy. We were playing at the Boston Harbor Hotel this past summer outside for their big concert series, right on the water, beautiful venue. We played that song during the set and then we got a call months later from a big huge property development company in the Boston area. They wanted to hire us to play their company holiday party. There was probably eight or nine hundred people at this party. They said their sole reason for hiring us for this big corporate event was that song. They loved that song so much, the people that hired us that were in charge of hiring for the entertainment. She said 'I remember that song out of all the songs that night. It stuck out in my mind,' the organizer told him.
Leavitt helped form this current outfit after he had known Stack for several years, being that the New England music scene is rather small and players all know one another. Leavitt's previous band had folded and he had been working with the Nashville Songwriters Association when Stack called him looking to find a replacement rhythm guitarist. They put the band together by sifting through contacts made in the business and everybody brought in their own fan base.
"We work hard and we're disciplined," he said. "The group rehearses every single week. We're always learning new tunes. We make sure we pad our set with both original music and cover tunes. I think that's what makes our formula unique because we focus on original music. I think there's some wonderful cover bands but it's really original music that sets you apart from other groups."
Leavitt enjoys working with Stack, describing her as the most fun and easy person to work with. Stack and the others are open to new ideas, the songwriter said. "She's just a joy to work with," Leavitt said. "She's just an average everyday person. She doesn't have an ego about her. She just loves music and loves to get up there and sing and entertain and she holds a captive audience for any number of hours."
What Leavitt most enjoys about being in the Shana Stack Band is the family atmosphere of the band. They recently threw a Christmas party for themselves, including the kids, the wives. "We've done it every year for four years now," he said. "It's just the camaraderie. We all get along and everybody has a good time and we laugh, just laugh constantly."
2014 will find the band opening new doors. Stack said it's time for one of Leavitt's songs to become a storyline video. "We're looking to do that this year and put out some new originals as well, keep chipping away," she said. "You just can't rest. You've got to keep doing what you're doing and keep moving ahead and moving forward.