Press Release
The Shana Stack Band wins Country Act of the Year
3rd Annual New England Music Awards
Lowell, MA, Saturday, February 22, 2014:  The New England Music Awards, located in Lowell, Massachusetts, announced today the winners of their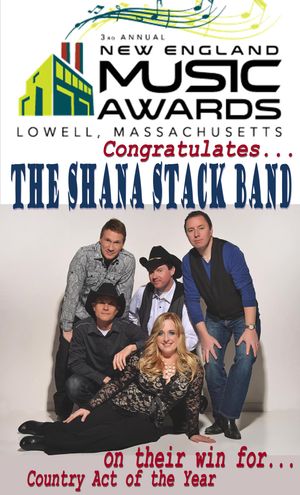 3nd Annual New England Music Awards. 
The New England Music Awards are presented every year to the musicians who call New England their home and whose dedication, spirit, and achievements over the last year have without a doubt established themselves as a contributing force to the most robust and diverse music scene in the country. The NEMA nominating committee consists of journalists from music publications, radio personalities, talent buyers, and record label execs collectively representing all six New England states.
The goal of NEMA is to celebrate and recognize some of the area's best musical achievements. Every year NEMA will nominate over 100 artists and/or bands spanning a number of categories and genres of popular music in New England, including the coveted individual state awards which will select one band/act from each of the six states as its Best In State.
The Shana Stack Band, comprised of all New Hampshire musicians (Shana Stack, Ed Leavitt, John Sanchez, Kurt Ekstrom and Billy Moedebeck), was nominated in the Country Act of the Year category.  The New England Music Award committee received over 4,000 applications for the more than 25 categories and chose only 5 artists/groups to be represented in each category. 
At the awards ceremony Saturday evening, The Shana Stack Band was announced as this year's Country Act of the Year for the 3rd Annual New England Music Awards.  The Shana Stack Band members were thrilled about the news.  "We couldn't do this without all of our fans, friends and families.  We give up a lot of family-time during the year to play our music, and we thank them for allowing us this gift."  They are appreciative of all of the support they receive during the year.  "The awards we have won over the last few years from the Country Band of the Year and the Fans Choice Award by the Independent Country Music Association to our new title as Country Act of the Year by the New England Music Awards, these mean so much to us.  It shows that the fans really approve of what we are doing.  The fans are really what make this adventure fun, exciting and sincerely rewarding."
The band will release a fourth album in 2014.  Their their third album, "Every Now and Then", has been a huge success.  The band is looking forward to another successful year, traveling all across New England to perform for their fans.  They have opened for Country Superstars such as Reba McEntire, Sugarland, Travis Tritt, Rascal Flatts and have a pending announcement for another opening spot for a large Nashville artist. You can view their website and order their latest CD by visiting www.ShanaStack.com