Billy Copeland Music News
By Bill Copeland on September 19, 2014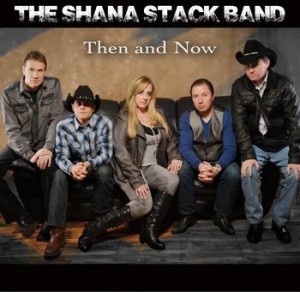 Shana Stack Band just released an 11 track album called Then And Now. This new album features reworked versions of their most requested songs, a couple done acoustic style, and two brand new songs. Longtime fans of Shana Stack Band get to hear all new versions of their favorite songs while new fans discovering the band through this disc will be treated to a classy country record.
"I Threw Your Ring Away" begins the album with Stack's beautiful coos and something unusual for country music, drum programming. A haunting intro, it soon fades into an assertive country rock number, with the emphasis being on rock. Punchy bass lines abound. The drums push hard to move the song along. Guitar lines run from lively to electrifying. And, Stack's vocal lets the listener know she means business. Aggressive and foreboding, she expresses that post-relationship frustration that could make a woman teeter on the brink of becoming dangerous.
Fetching honky tonk guitars usher, mid-tempo, the listener into songwriter-rhythm guitarist Ed Leavitt's lead vocal song "The Bottle." Leavitt contemplates the issues surrounding the bottle, listing episodes of near destruction and failure in vivid imagery, detail, and theme. Yet, the emphasis remains on the emotion of the man who needs to recover. Leavitt sings this one mightily, expressing the earnest emotions of a man who hit rock bottom and has nowhere to go but back up. His hefty chorus is hooky as well as revelatory, and that works well.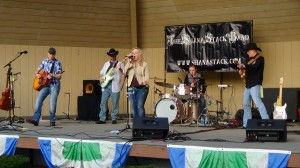 "You Can't Make Me Fall" turns the microphone duties back to Stack. Here, she makes clear she won't let someone toy with and topple her. Her voice is as beautiful as ever in this Top 40 country number. She glides through the chorus while also pulling in all she moves past with her graceful ease. During the verses, she sings with an audacity of spirit that lets you know she means every word of this anthem of independence and strength. Her voice on the ride out is killer.
Another drinking song, "Black Whiskey," finds Leavitt offering his chirpy country crooner vocal over some snappy rhythm guitar. Lead guitarist John Sanchez takes over and gives off some tasty bits of twang, nice little touches that add up to one fine melodic phrase. It's amazing how the guitars in this band are just drenched and dripping with country idioms. That's no mean feat for a band out of the northeast. These boys, Leavitt and Sanchez, tie their lead and rhythm work into one homespun heft of sound.
"Pleasure And Pain" makes the most of Stack's beautiful, towering vocal. She sings with a power that could fill sails and send ships moving over the waves. Slowing it down on some verses, she uses her voice as a precise instrument, filling each vocal note with that extra something special. Listen to the way she handles the sustains in the close out and you might think you're listening to a angel who just fell out of heaven.
"Let It Go" passes the vocal chores back to Ed Leavitt. On this one, he readily handles a hooky chorus that twists and turns with the song's meaningful rhythms. Leavitt, creates, with his songwriting, a rising lift of music, and he rides it well with his rangy vocal heft.
Leavitt continues at the microphone with "Give Back," a country gentleman's call to remind us to pay it forward after all that's been done for us. Helping the less fortunate, giving more to those with less, comes across as spiritual as any Sunday school lesson, and he puts it across without any faux preachy pretense. His sincerity makes you picture the earnest child learning his Bible lessons about the good Samaritan. Leavitt's hearty vocal, the guitars and piano texture, and the deep groove from the rhythm section help to make the listener feel the message running through this.
Stack sings lead vocal on "Just Kiss Me," a hugely popular regional hit from this band's last album. It's original Taylor Swift-inspired version has been reworked into something aimed more at adult contemporary radio. Stack applies her beauty of a voice to winning over a shy guy's ears as well as his heart. This song takes graceful flight as Stack's voice get lift from her gusts of emotive, rangy power. Each time she takes the chorus it's like a lovely winged creature suddenly lifted upwards, something natural, beautiful, and blessed with ta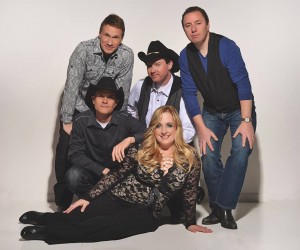 lent
"Blame It On Me" puts Leavitt back in charge of microphone detail. The songwriter's easygoing philosophy comes across load and clear. He tells a beloved person she can blame him for everything, bad weather, car failure, and relationship difficulties. Leavitt's winsome charm comes through in his lyrics as much as in his rested, confident vocal. He's as witty as all get out here, and he keeps offering up his gentle sarcasm with gentlemanly aplomb. He also boast one heck of a singing voice on the ride out.
This reviewer's favorite song on the album," What You See Is What You Get," is Stack's attitude-laden call to arms against people who have a specific, narrow image of femininity. She can drive a John Deere tractor and walk in the rain just to get wet. She can also dress up pretty and flirty. Stack stomps through this one beautifully and authoritatively, with a force of personality that smolders its way forward, knocking down any that dare to get in her way. The groove is killer, twisty, and the melodic instruments wrap around it like battle armor. Pretty coos, sweet guitar notes, and the initial take-your-time groove at first lull the listener in while they belie the all American girls flexes her muscles vibe.
SSB close out with "Better Life," a call to follow one's dreams rather than settle in a one horse town. This track does what the album has been longing to do by now, pair Stack and Leavitt in a duo number. Leavitt sings this anthem, about the brave and lonely person's need to press on, with his first rate vocal chops. He caresses his lyrics with warm regard for his subjects. Stack comes in on the next verse. She coats her words with care, and that makes this song come alive as much the striking vocals and warm musical support.
Stack, Leavitt, bass guitarist Billy Moedebeck, lead guitarist and Mandolin player John Sanchez, and drummer Kurt Ekstrom have come up with a classy album. Though most of these songs are not new, they are newly arranged and they find the band pulling them all together with their own distinct sound based on where they're currently at.