The Shana Stack Band: The New England Music Awards 'Country Act of the Year' Nominee
Written by Heather Moreau. Posted in Country News, Music News, Site, Station News, Uncategorized, Whats Hot
A Great Band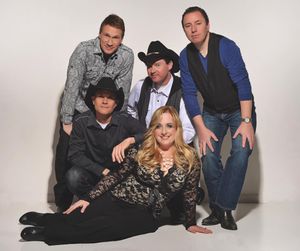 Class, professionalism, and talent are just a few words that come to mind when I think of The Shana Stack Band. They have only been together since 2010, but have quickly proved to be one of the top bands in the region. The work that they are doing are forcing people to take notice and getting them some serious recognition. They are incredibly gracious and appreciate their fans and any and all attention they receive (that includes their manager). They even created a way for their fans to be involved with one of their albums. Fans were able to contribute as sponsors and get their name in the liner notes as well as an autographed copy when it was released. This is just one example of how they are keeping themselves accessible and grounded.
Forming the Band
All of the band members have played in bands prior to getting together. Shana and Ed knew of each other while playing in other bands, and when those bands parted ways they decided to play together. They started hunting for other members and put together an extremely talented group including Shana Stack on vocals, Ed Leavitt on vocals and rhythm guitar, John Sanchez on lead guitar and vocals, Billy Moedebeck on bass, and Kurt Ekstrom on drums.
A Music Machine
This talented and hard-working group has released three albums in three years. Ed is the song writer in the band and is constantly writing. He is a member of the Nashville Songwriters Association International, and had one of his songs featured in the movie "Compliance" which was released by Magnolia Pictures in 2012. Ed finds inspiration everywhere for his songs, whether it is a personal experience or a funny observation at the grocery store, he is always brainstorming. He writes the song with his acoustic guitar and then the rest of the band members infuse themselves into it. While he does the writing he says the entire band is responsible for building the songs, and that Shana is great at interpreting the lyrics he writes. With the way Ed writes don't be surprised to hear even more new music from them sooner rather than later.
Holding their own with Music Heavyweights
The Shana Stack Band is not only busy writing music, but they are busy out playing music for their fans. Last year they played about 85 dates and this year they will be playing around 100 shows. They have played all over New England, Pennsylvania, and New York. The band's talent is getting them booked on shows with country super stars like Sugarland, Reba McEntire, Rascal Flatts, and Travis Tritt. They have opened shows three years in a row at Meadowbrook, and also played at the New Hampshire Motor Speedway. The band has also been booked to play two nights in New York at the Turning Stone Casino on January 24 and 25, where usually only big name national acts play. Look for this band to play near you and get out to see them (check their website for a list of shows, there are a lot). Even if you are not a Country music fan, you should check them out, as they are constantly surprising and converting people into new loyal fans.
Keep the Nominations Coming
The Shana Stack Band is a nominee for The New England Music Awards 'Country Act of the Year'. This may be their first nomination from NEMA, but they are no strangers to receiving awards. They just received two national awards from the Independent Country Music Association in Nashville: Country Band of the Year (voted on by their peers) and Fan's Choice Award. Shana has also received numerous awards for top female vocalist in New Hampshire as well as the northeast region. They are excited each time they receive a nomination. To vote for The Shana Stack Band go to http://www.nemusicawards.com/nominees for 'Country Act of the Year'. Voting ends on January 31, 2014.
A Great Example
While the band seems to be sky rocketing they are truly humble. They are happy to take their time and be a New England based band. They are planning to branch out to more areas in New England that they have not traveled to yet. The band members agree to take it step by step and explore the options as they come. I have no doubt after listening to their music and speaking with them that they will soon be national stars whether they want to or not. They will no longer be asking to be the opening band, they will be asked to be the headliner. A lot of bands, regardless of the genre, should take note of what they are doing. They work their butts off and regardless of how much success they are achieving they remain humble, gracious, and are unbelievably professional.
For more information on The Shana Stack Band, their music, and show dates go to one of their pages.
Website: http://www.shanastack.com/
Facebook: https://www.facebook.com/pages/The-Shana-Stack-Band/101538929908902
Twitter: https://twitter.com/ShanaStackBand
ReverbNation: https://www.reverbnation.com/theshanastackband
YouTube: https://www.youtube.com/user/ShanaStackBand
iTunes: https://itunes.apple.com/us/artist/the-shana-stack-band/id535806869
The New England Music Awards http://www.nemusicawards.com/