Keene Sentinel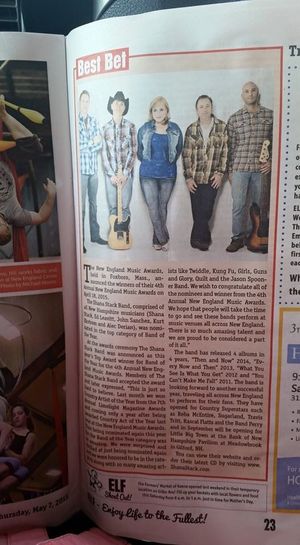 April 2015
The New England Music Awards, held in Foxboro, Mass., announced the winners of their 4th Annual New England Music Awards on April 18, 2015.
The Shana Stack Band, comprised of all New Hampshire musicians (Shana Stack, Ed Leavitt, John Sanchez, Kurt Ekstrom and Alec Derian), was nominated in the top category of Band of the Year. 
At the awards ceremony The Shana Stack Band was announced as this year's Top Award winner for Band of the Year for the 4th Annual New England Music Awards.  Members of The Shana Stack Band later expressed, "This is just so hard to believe.  Last month we won Country Artist of the Year from the 7
th
Annual Limelight Magazine Awards and coming only a year after being awarded Country Act of the Year last year at the New England Music Awards. Then being nominated again this year for the Band of the Year category was so amazing.  We were surprised and thrilled at just being nominated again and we were honored to be in the category along with so many amazing artists like Twiddle, Kung Fu, Girls, Guns and Glory, Quilt and the Jason Spooner Band.  We wish to congratulate all of the nominees and winner from the 4th Annual New England Music Awards.  We hope that people will take the time to go and see these bands perform at music venues all across New England.  There is so much amazing talent and we are proud to be considered a part of it all."
The band has released 4 albums in 4 years, "Then and Now" 2014, "Every Now and Then" 2013, "What You See Is What You Get" 2012 and "You Can't Make Me Fall" 2011. The band is looking forward to another successful year, traveling all across New England to perform for their fans.  They have opened for Country Superstars such as Reba McEntire, Sugarland, Travis Tritt, Rascal Flatts and the Band Perry and in September will be opening for Little Big Town at the Bank of New Hampshire Pavilion at Meadowbrook in Gilford, NH.  
You can view their website and order their latest CD by visiting
www.ShanaStack.com